posted today some wonderful information
about Halloween in Ireland, including a delicious-looking recipe for
Bairín Breac (Halloween Brack)...sort of like a fruited-bread.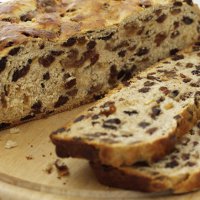 He mentions that October 31 is the time
" the faeries are moving from their summer to their winter quarters. "
I wish I had known this before.
This is a halloween notion that I can latch onto...
Faeries nestling into their winter quarters
leprechaun,
clurichaun,
brownies,
pooka,
and even the keening banshee.
So tomorrow, I will bake a Bairin Breac, and read from
John O'Donohue's Anam Cara and this will be the way I celebrate this holy-day.
For the first time ever, with sincerity in my heart, I wish everyone
Happy Halloween!