Before we leave children's books, I thought I would add my favourite.
My girls loved this story, a parable on the joy of giving, of unconditional love.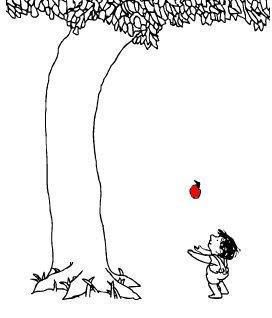 The little boy comes to the tree who gladly, happily, lovingly,
simply gives...
her shade, her fruit...
her bark...
and finally, even her trunk...
and the boy, the youth, the old man just keeps coming back and taking, never satisfied, never content. It's an interesting contrast in perspectives.
This book has been the 'gift of choice' from me and my girls many times when babies are born, or christened, or for first birthdays.
It's a sweet tale.
Shel Silverstein (1932 - 1999)
Yes...the same Shel Silverstein who wrote lyrics for A Boy Named Sue" (sung by Johnny Cash, 1969), "One's On The Way", "The Unicorn" (sung by the Irish Rovers), "Boa Constrictor", "So Good To So Bad", "Sylvia's Mother" (sung by Dr. Hook, 1972), "The Great Conch Train Robbery", and "Yes, Mr. Rogers".