I read in the paper today that
Britain's new darling,
Kate Middleton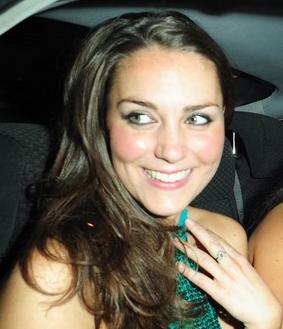 is going to spend her last night
as a single woman with her family at
This hotel is my absolute favourite in London.
I've never actually stayed there, but I have been most fortunate to have dined there many times.
It's everything an elegant English hotel should be...
beautifully decorated and steeped in history
1910
Grand Opening of The Goring by founder Otto Richard Goring – the last hotel built in the reign of King Emperor Edward VII. Each bedroom has 'en-suite' bathrooms – the first in the World.
Price of a room – 7s 6d (37p)
WAR
1914
Outbreak of 1st World War. Hotel becomes command centre for Chief of Allied Forces. Direct telephone link between General Pershing and President Wilson. The Allied War Effort is being run from The Goring Kitchen.Goring staff from France and Germany are evacuated, famously walking arm in arm to Victoria station singing each other's national anthems.
1919
Lady Randolph Churchill comes to live at The Goring and is visited frequently by her son, Mr Winston Churchill.
PEACE
1921
"Air-conditioning invented!" O.R. Goring installs enormous fan on roof, piped to every room. Vacuum cleaners are attached via outlets in skirting board – underwear sucked out into the air, blowing across London.
Price of a room – 25s (£1.25 )
1920-25
The Hon.Violet d'Arcy comes to live at The Goring while she is Lady in Waiting to Queen Mary. The Queen often comes to tea with her at The Goring.
1926
The General Strike. Opening of the new wing and Restaurant
1930
Novelist Anthony Powell is inspired to invent his heroine The Hon. Angela Goring for his epic series of novels 'A Dance to the Music of Time' over tea at the hotel.
1937
Coronation of King George Vl. Visit of the Norwegian Crown Prince, who explains his fondness for the hotel by saying 'at Buckingham Palace I have to share a bath with five people! Here I have one to myself'.
1938
Leslie Nicol, switchboard operator, witnesses Churchill lifting the French Prime Minister Daladier off the floor by his lapels, with Chamberlain looking on.
Price of a room - £1.37
WAR AGAIN
1939
Outbreak of the 2nd World War. Occupancy down to 6%. 150 Polish Officers accommodated.
1944
The first ever colour footage of WWII is made. The Fox film crew stay at The Goring on their way to board landing craft for the D-Day Invasion.
Mrs Goring's salad invented. To beat rationing, Edna Goring invents a special dish from "whatever we can find", including, hare, whale, and on one occasion, an antelope shot by an officer in the Western Desert campaign. No rabbit is safe in the Goring garden.
1945
Peace declared. Election of Labour Government and the austerity years. The King and Queen come to The Goring for sausages and scrambled eggs with the Princesses.
LASTING PEACE
1948
Christening of Prince Charles, with Christening Cake supplied by the Escoffier-trained Goring pastry chefs.
1952
Death of King George VI.
1953
Coronation of Queen Elizabeth lI Vast influx of foreign royalty come to stay at the Goring, which becomes an annexe to Buckingham Palace.
1960
50th Birthday. The Swinging Sixties. Jean Shrimpton causes consternation at The Goring by appearing in one of the first mini skirts.
Price of a room - £4
'70's, '80's
Annual visits from Queen Elizabeth the Queen Mother as Patron of the Injured Jockeys Fund.
Price of a room in 1970 - £4.50
1990
George Goring accepts an O.B.E. from Her Majesty The Queen at Buckingham Palace for "services to the hotel industry".
2005
Acquisition of the gardens from the Duke of Westminster.
Retirement of Mr George Goring on March 22nd after 43 years at the helm.
Appointment of 4th generation Jeremy Goring.
Opening of the new Dining Room, designed by David Linley.
My favourite thing (besides everything)
about this hotel...
are the wooden sheep dotted about the place.
If this is an example of Ms. Middleton's taste...
I like the girl already.