One thing I am fast learning on this weight-loss journey, is that Asian food is a wonderful source of good-tasting, nourishing dishes. So far this past ten days I have made, Vietnamese Pho, Thai Khao Phat Gai and tonight's dinner is Thai-style Chicken Noodle Soup.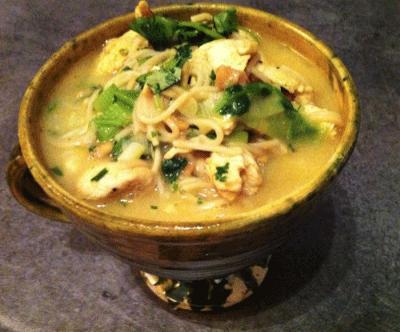 6 cups good-tasting chicken broth (add bones if you have leftover roast chicken or turkey)
90 calories
1-2 fresh chicken breasts or thighs, chopped into small pieces,
OR 1-2 cups leftover roast chicken (or turkey)
550 calories for boneless/skinless chicken breast meat raw
1 stalk lemongrass., finely sliced and minced,
OR 3 Tbsp. bottled or frozen prepared lemongrass
3-4 kaffir lime leaves,
OR substitute 1 bay leaf
1 thumb-size piece galangal
OR ginger, grated or sliced into thin strips
9 calories
1 large carrot, sliced
25 calories
several bunches baby bok choy, separated (or other added greens of your choice)
30 calories for 2 cup
s
1 red chili, minced,
OR 1 tsp. chili sauce
OR 1/2 tsp. cayenne pepper
3 cloves garlic, minced
1/4 cup fresh lime juice
10 calories for 1 whole lime
2-3 Tbsp. fish sauce (to taste)
30 calories
1/4 to 1/3 cup coconut milk
50 calories
white or black pepper (to taste)
generous handful of fresh coriander
8-10 oz. dry flat Thai rice noodles, or other noodles of your choice 560 calories for 152 gr dry
optional: 1 tsp. sugar, to taste
16calories
800 calories for 10 c = 80 calories/cup without noodles
Preparation:
Bring a large pot of water to just under a boil and add the noodles. Remove from heat and allow noodles to soak 5-8 minutes, or until soft but still chewy ("al dente").
Drain and rinse briefly with cold water to keep from sticking.
Using a large soup pot, bring chicken stock to a boil over high heat. Add the fresh or roasted chicken, lemongrass, galangal or ginger, carrot, whole lime leaves (plus chicken or turkey bones, if available). Boil on high for 1 minute, then turn heat down to medium and cover with a lid. Allow soup to simmer for 5-6 more minutes, adding bok choy when chicken is nearly cooked.
While continuing to simmer the soup, add the chili, garlic, lime juice, plus 2 Tbsp. of the fish sauce. Stir well.
Turn heat down to minimum and add the coconut milk (add up to 1/3 cup for creamier soup). Stir to incorporate.
Taste-test the soup, adding more fish sauce until desired flavor/saltiness is reached (how much you will need depends on how salty your stock is). If it tastes too salty, add another squeeze or two of lime juice. Add more chili if not spicy enough, or more coconut milk if the soup is too spicy. If the soup is a little too sour for your taste, add 1-2 tsp. sugar (to balance out the lime juice).
To serve, place a generous mound of noodles in each bowl, then top with the hot soup. Finish with a final sprinkling of pepper and fresh coriander.
Optional Vegetables: Other vegetables that can be added to this soup include broccoli, mushrooms, Chinese cabbage, celery, or spinach.
This is good!