I have a thing for chairs...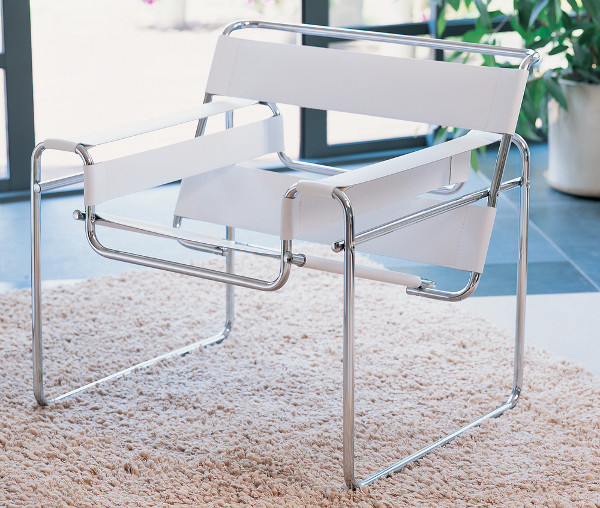 Model B3 Chair also know as Wassily Chair by Marcel Breuer
Most people think this chair was designed for the artist Wassily Kandinski, but it wasn't. Kandinski who, like Breuer was on the Bauhaus faculty, had admired the chair, so Breuer had a copy made for Kandinski's private quarters. I love this in white.
Egg Chair, by Arne Jacobsen
The Egg Chair was first designed as a couch, but because of the size it could not be covered by two cow-hides. This meant there had to be a line of stitching right down the middle which was not whas the designer envisioned. So the Egg Chair came to be. I don't think he was ever truly satisfied with the design and so it was withdrawn from production. I'm not sure I would have this in my home, but I do like it.
LC2 Petite Modele Armchair
designed by Charles-Édouard Jeanneret
Jeanneret (aka Le Corbusier) said "Chairs are architecture, sofas are bourgeois."
These are a constant love of mine.
I know knock-offs are very fashionable right now...
but isn't imitation the highest form of flattery
Here is my current obsession...
actually, I have been looking at these chairs for about five years now, but I am a patient soul...
Mademoiselle chair designed for Kartell by Phillip Stark with fabric by Dolce and Gabanna
It also comes in...
these chinoiserie fabrics
and these Missoni fabrics. I love the lucite legs.
I would love to have them as my dining room chairs.
The backs are the perfect height to disappear at table level.
Perhaps if I tell Father Christmas I have been a really, really good girl this year?
No...at almost $1,000 each...not this year.